to be a potter

mud mud mud then there is electrical then glaze chemistry then welding masonry carpentry mud fuels combustion oxidation reduction timing throwing yum mud! form handles balance design style ergonomics plasticity viscosity mud mud mud machines tools maintenance light taxes communication selling packing shipping insurance mud practice practice practice failure success water mud mud mud turning centering pulling shaping forming finnishing trimming drying firing waxing glazing loading firing cooling opening cleaning displaying selling packing shipping invoicing

discipline purchasing hauling lifting unpacking pugging wedging weighting throwing centering pulling forming shaping finishing drying trimming handling finishing signing drying firing waxing glazing firing-round and round and round we spin. just cant wait to get up and do it again. life of a potter, ivy
---
ABOUT IVY HEYMANN'S WHITE OAKS POTTERY.
The pottery sits on several acres of land, overlooking the Patos Mountains to the south, that I purchased from Bud Crenshaw many moons ago.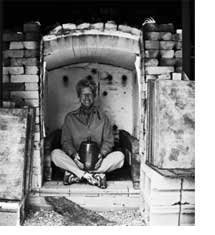 It opened in 1986. It took that many years for me to build the original pottery by hand out of adobe. I lived above the pottery (in what is now the gallery space), and slept in the upper loft area. It was a slow pay as you go process.
The "pottery" is currently on the ground floor (I added a large work room addition in recently). This is where I keep my clay supply, glazes, potter's wheel and drying racks. There's also a small electric kiln. The second floor is now an "honors system" gallery. If I happen to be out running erands, help yourself and leave a payment, please.
In back of the pottery is a propane fired kiln I made with fire bricks recovered from the old Ancho Electric Plant. It's the heartbeat of the pottery and in an average year I'll do about six or more firings.
ABOUT THE POTTERY PROCESS.
It all starts with clay. I get mine from a source in Albuquerque (about 3 hours north of the pottery), and I have several types of clay. Most of my work is done with procelain clay, the highest quality available.
There's nothing more hand made than pottery from White Oaks Pottery.
Once the piece is formed, be it dishware, vases, cups...it is placed on drying racks in preparation for it's initial firing in the kiln. Each piece goes through an initial firing after which glazes are applied.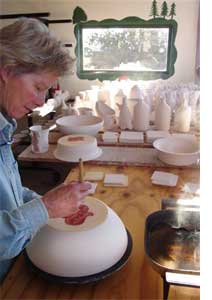 All of my glazes are hand mixed creations. And each color I've developed has gone through a lengthy trial and error firing runs. First there's an initial firing.
Then the glazes are applied and the bottom of each piece is waxed. Otherwise the glaze (think of it as molten glass when it's fired) will fuse it to the shelves in the kiln.
Only then does the second and final firing take place.

The kiln, by the way, hits a temperature of 2400 degrees on each firing and has to stay at that temperature for 8 hours. It then must sit, closed, for a cooling down period of 6-8 hours before opening it.
Those are the longest hours of the year for me.