How to prepare perfect cornish hens.
What you'll need---
Vertical cornish hen roasters.
Cornish hens, one per person, defrosted.
Beer or Vermouth for the infusion cone (keeps the hen moist while cooking).
Any herbs you may wish to infuse.
Olive oil.
We like a spice for last minute sprinkle-on before cooking.
Preparing and roasting your cornish hens---
1. Pre-heat your oven to 400 degrees.
2. Rinse the hens in cold water and pat dry.
3. Do a light rub of olive oil (adds to the crispness of the skin in cooking).
4. Pam your roasters for easier cleaning after baking.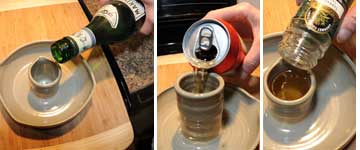 5. Prepare the infusion cup. Classic is just beer, but you can use Vermouth or white wine. We haven't tried tequila yet, but it's on our list. Add herbs if desired (tarragon, rosemary). The liquid helps to keep the birds moist during cooking but herbs added here don't really overwhelm the taste of the hens. I like to add a dusting of Tony Chachere's More Spice before putting them in the oven.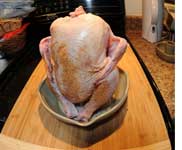 6. Place the hens on the roasters and place in 400 degree oven for 1 hour (internal temperature should hit 180 degrees).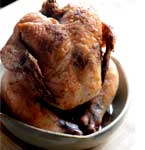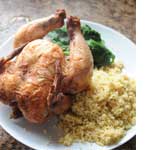 7. Let cool for a few minutes after baking, and serve.
Here's a "comics" recipe from a user in Ohio!

---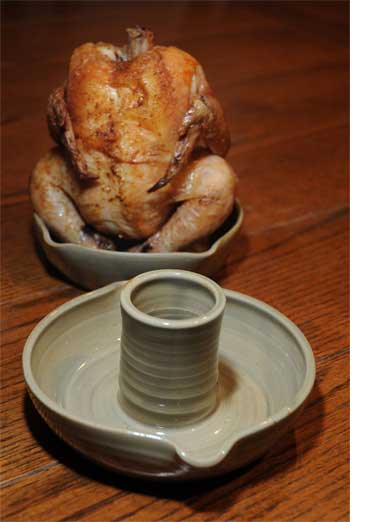 About my vertical cornish hen roasters.
Like all of my pottery, each piece is hand thrown in my studio and one-of-a-kind. I offer my cornish hen roasters with either two pour corners, or four, in case you wish to use the dripping for any further saucing. They're $50 per pair and I normally keep a few in the gallery. They're also available by custom order in a variety of glazes (4-6 week delivery, please).

If you need them for a specific event (like a wedding or birthday), please give me a call to discuss the possibilities.
Ivy
(575) 648-2985