"FROM MY HANDS TO YOURS," IVY HEYMANN'S WHITE OAKS POTTERY, WHITE OAKS, NEW MEXICO.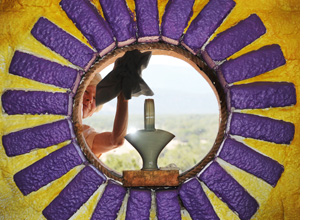 I am truly the luckiest person I know.
I get to play in the mud and create this wonderful life in clay.
In pursuit of excellence.

Since 1971 clay is it!
My life, my love, my passion.
These pots are my children.
They are alive, they sing, they dance well together.
They are gentle to the hand.
They are fired to be durable with great strength.
They are light like me, ergonomically correct, user friendly.

Pots the colors of New Mexico, colors of life in this land of enchantment, where the light is magic!
Blue skies, teal of dawn and dusk, yellow of winter grass, green of juniper trees, white of snow, celadon of spring, copper of rain dancing and black, my best.
And always the variables of the wind, the kiln gods, of life itself.
-Ivy

---
NEW! FUN FOR COOKS: It's easy to be a "rock" star with the vertical cornish hen roaster from White Oaks Pottery. Christmas orders being taken now.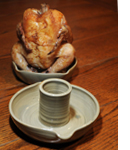 I designed my first cornish hen oven roasters for my friend Pat Cooper. For those not familiar with the Rock Cornish Hen...they're what chicken used to taste like before they became bigger, whitter and fatter. At one hour 400 degrees, they are super easy to prepare. They're hard to get on vertical poultry roasters, so this was my answer: a bowl to collect juices as they roast (and "pour corners"), and an infusion tube/bird holder to add spices, vermouth, beer. Click here a "how to" page for the perfect cornish hen without having to turn the birds while baking. AND, it's SO easy to clean compared to some vertical roasters. I have several vertical roasters in stock, or can custom make a set for your kitchen. Drop me an email, or give me a call. $50 per pair.
Here's an Ohio user's review of what he calls "Pigeon Hot Tubs."